Bookkeeping Services Sorrento Valley 
Know your goals, set your priorities, and create a strategy that can change as your world does.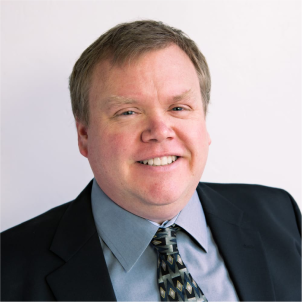 Paul Anderson, CPA
Paul Anderson, CPA, based in San Diego, provides a full range of tax preparation, accounting, and bookkeeping services, either in your facility or at our location.
READ MORE
READ MORE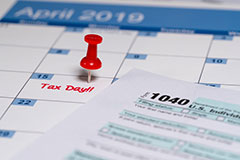 Tax Preparation & Planning Sorrento Valley
Our goal is to make the preparation process as easy as possible for you and minimize your tax liability with careful planning.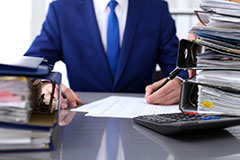 Accounting & Bookkeeping Sorrento Valley
Through prompt and timely service we can keep you ahead of government deadlines, maintain order in your internal financial systems, and reduce the headaches that come with owning a business.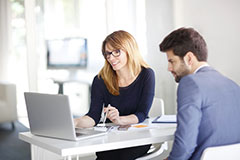 Business Tax Consulting Sorrento Valley
Our advisors can help you by delivering services that keep your business on the right track in an increasingly complex and rapidly changing environment.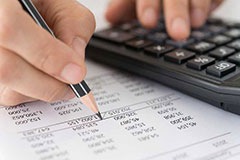 IRS Tax Problems
We are here to help you resolve your tax problems and put an end to the misery that the IRS can put you through.
Bookkeeping Services Sorrento Valley 
Bookkeeping is predominantly a non-core function and in–house bookkeeping services can lead to certain intricate, tiresome and costly affairs for both large and medium scale businesses. Also, the tax-related laws and amendments in the U.S. are subject to frequent modifications and staying updated with those can be troublesome at times.  These are the reasons why many businesses in the U.S. have resorted to outsourcing bookkeeping services in recent times. 
For any business, it's extremely important to keep the books updated. An efficient and updated bookkeeping system enables the business to retrieve data or information regarding its transactions easily. It also provides a clear picture of the organization to all its stakeholders. Therefore, whether you are a startup, a growing business or a mature corporation, you need to be on top of your internal bookkeeping systems.
There are many firms that deal with bookkeeping services Sorrento Valley. But you need to be choosy and alert while finding the perfect one that is well-versed with the ever-changing rules/regulations so that you can have absolute peace of mind throughout. You should make sure to hire the services of an experienced professional who can render bookkeeping services Sorrento Valley in an error-free manner and yet, at economical rates.
Read through this blog post. We will help you choose the perfect bookkeeping services Sorrento Valley.
Tips to find out the best bookkeeping services Sorrento Valley
Here is what you need to do to find out the best bookkeeping services Sorrento Valley.
Define your needs or objectives clearly
Before you start the hunt for the perfect bookkeeping services Sorrento Valley, be clear about your needs and objectives. Ask certain questions to yourself. Do you need services from some national/international agency that works remotely for you or someone to work in your office all the time? Why are you hiring an accounting service in the first place? At what frequency do you need such services? Answers to questions such as these would allow you to proceed in the right direction. For example, if your business is in and around Sorrento valley, you would need a firm well-versed with the U.S. Federal tax laws and well-acquainted with the intricacies associated with the U.S. Tax Laws. A bookkeeping firm based in another country and not having enough experience with the U.S tax laws would not quite serve your purpose. 
Compare and negotiate service fees
The charging patterns and methods of bookkeeping services Sorrento Valley may differ from one firm to another. You should compare charges/service fees by various bookkeeping services Sorrento Valley before you make your decision. Some of the firms may charge you on an hourly basis. While, some others may ask a fixed rate for each bookkeeping task they perform (such as preparing payroll, financial statement preparation, general ledger accounting and so on). You would do well to get multiple quotes from different bookkeeping services Sorrento Valley before opting for one finally. Also, do not forget to clarify all your doubts well in advance. Negotiate with them on all possible accounts and settle for a reasonable and mutually agreeable amount.
Have a proper background check
Do bear in mind that, when you engage a bookkeeping services Sorrento Valley, you would let it work with crucial financial details pertaining to your business. Therefore, you need to have a thorough background check before you zero in on a firm. You need to be completely sure about whether they have the requisite domain knowledge and any previous experience in your area of business. Some bookkeeping services Sorrento Valley specialize in certain sectors only. If the bookkeeping services Sorrento Valley do not have a proven track record of handling bookkeeping operations in your business area/industry, they would not be familiar with the issues surrounding it. 
Have a prior check on the number of years they have been in operation and the reputed clients in your industry/business area they have served so far. You may ask for references to check the background of any such bookkeeping services Sorrento Valley and get additional insights in this regard.
Check if the firm would be available as and when you need him
   In certain unavoidable circumstances, the immediate availability of the bookkeeping service pro becomes critical. Make no mistake! You should check and ensure it while negotiating with the firm at the very beginning itself. As you might have discovered on many occasions in your business operations, you can have frequent bookkeeping queries that require urgent/timely answers. Your bookkeeping service pro should be available to answer your queries/concerns whenever you need him, anytime during the year.
Check if the bookkeeping service is a good fit for you
While choosing the bookkeeping services Sorrento Valley, you need to gauge if you are comfortable with the particular firm, its values/culture and its individuals. You can have the most expensive bookkeeping services Sorrento Valley at your service, but, if you are not comfortable working with them, you can't expect to get consistent service qualities in the long run.  Do figure out if the service provider is aligned to your business objectives, cultures and values. They should be able to set up and manage their operational processes in a bid to add value to your business operations and to provide you an unassailable competitive advantage. 
---
Paul Anderson, CPA, is a full-service tax preparation CPA firm that has made quite a name for offering quality solutions on tax preparation, bookkeeping and accounting services. If you are looking for tax preparation services San Diego, your search is over. For its prompt, timely and reliable services, M/S Paul Anderson has been able to get 5-star ratings in both Google and Yelp customer reviews. They are well-versed with the latest tax law changes and have devised a unique system to help you file your taxes in a quick and easy manner. Contact me today!